Definition
Demat account is a safe and convenient means of holding securities just like a bank account is for funds. Today, practically 99.9% settlement (of shares) takes place on demat mode only. Thus, it is advisable to have a Beneficiary Owner (BO) account to trade at the exchanges.
Bank Account Vs Demat Account
| | | | |
| --- | --- | --- | --- |
| S. No. | Basis Of Differentiation | Bank Account | Demat Account |
| 1. | Form of Holdings/Deposits | Funds | Securities |
| 2. | Used for | Safekeeping of money | Safekeeping of shares |
| 3. | Facilitates | Transfer of money (without actually handling money) | Transfer of shares (without actually handling shares) |
| 4. | Where to open | A bank of choice | A DP of choice (can be a bank) |
| 5. | Requirement of PAN Number | Not Mandatory | Mandatory (effective from April 01, 2006) |
| 6. | Interest accrual on holdings | Interest income is subject to the applicable rate of interest | No interest accruals on securities held in demat account |
| 7. | Minimum balance requirement | AQB* maintainance is specified for certain bank accounts | No such requirement |
| 8. | Either or Survivor facility | Available | Not available |
*AQB - Average Quarterly Balance
| | | |
| --- | --- | --- |
| S. No. | BASIS OF SIMILARITY | PARTICULARS |
| 1. | Security and Convenience | Both are very safe and convenient means of holding deposits/securities |
| 2. | Number of accounts | No legal barrier on the number of bank or demat accounts that can be opened |
| 3. | Transfer of deposits (funds or securities) | Funds/securities are transferred only at the instruction of the account holder |
| 4. | Physical transfer of money/securities | Physical transfer of money/securities is not involved |
| 5. | Nomination Facility | Available |
Benefits Of Demat Account
A safe and convenient way of holding securities (equity and debt instruments both).
Transactions involving physical securities are costlier than those involving dematerialised securities (just like the transactions through a bank teller are costlier than ATM transactions). Therefore, charges applicable to an investor are lesser for each transaction.
Securities can be transferred at an instruction immediately.
Increased liquidity, as securities can be sold at any time during the trading hours (between 9:55 AM to 3:30 PM on all working days), and payment can be received in a very short period of time.
No stamp duty charges.
Risks like forgery, thefts, bad delivery, delays in transfer etc, associated with physical certificates, are eliminated.
Pledging of securities in a short period of time.
Reduced paper work and transaction cost.
Odd-lot shares can also be traded (can be even 1 share).
Nomination facility available.
Any change in address or bank account details can be electronically intimated to all companies in which investor holds any securities, without having to inform each of them separately.
Securities are transferred by the DP itself, so no need to correspond with the companies.
Shares arising out of bonus, split, consolidation, merger etc. are automatically credited into the demat account of the investor.
Shares allotted in public issues are directly credited into demat account of the applicants in quick time.
Opening a Demat Account
To start dealing in securities in electronic form, one needs to open a demat account with a DP of his choice. An investor already having shares in physical form should ensure that he gets the account opened in the same set of names as appearing on the share certificate; otherwise a new account can be opened in any desired pattern by the investor.
Getting started

Choose a DP
Fill up an account opening form provided by DP, and sign an agreement with DP in a standard format prescribed by the depository.
DP provides the investor with a copy of the agreement and schedule of charges for his future reference.
DP opens the account and provides the investor with a unique account number, also known as Beneficiary Owner Identification Number (BO ID).

Documents to be attached

Passport size photographs
Proof of residence (POR) - Any one of Photo Ration Card with DOB / Photo Driving License with DOB / Passport copy / Electricity bill / Telephone bill
Proof of identity (POI) - Any one of Passport copy / Photo Driving License with DOB / Voters ID Card / PAN Card / Photo Ration Card with DOB
PAN card
Note:
The agreement required to be signed by the investor details the rights and duties of the investor and DP.
DP may revise the charges by giving a 30 days prior notice. SEBI has rationalized the cost structure for isation by removing account opening charges, transaction charges for credit of securities and custody charges, effective from January 28, 2005.
Maximum Number of holders in a Demat Account
A maximum of three persons are allowed to open a joint demat account in their names.
DEMATERIALISATION
Definition
Dematerialisation is the process of converting physical shares (share certificates) into an electronic form. Shares once converted into dematerialised form are held in a Demat account.
Dematerialisation Process
An investor having securities in physical form must get them dematerialised, if he intends to sell them. This requires the investor to fill a Demat Request Form (DRF) which is available with every DP and submit the same along with the physical certificates. Every security has an ISIN (International Securities Identification Number). If there is more than one security than the equal number of DRFs has to be filled in. The whole process goes on in the following manner: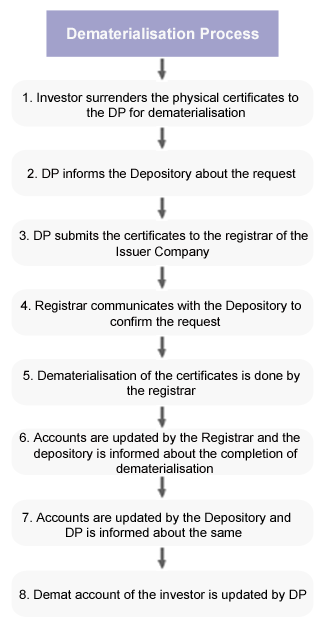 THINGS INVESTORS SHOULD KNOW ABOUT ACCOUNT OPENING AND DEMATERIALISATION
Providing the bank account details at the time of account opening
It is mandatory for an investor to provide his bank account details at the time of opening a demat account. This is done to safeguard investor's own interests. There are two major reasons for this:
The interest and dividend warrants can't be en-cashed by any unauthorized person, as the bank account number is mentioned on it.
It is convenient and time saving, as dividends and interests given by the companies can be directly credited to the investor's bank account (through ECS facility, wherever available).
Change in bank account details
It is possible for an investor to make changes to the details of his bank account. The investor must inform any change in his bank account details to his DP. This enables him to receive the cash corporate benefits (such as dividends, interests) directly into his account in time and discourages any unauthorized use by any second party.
Change in the address of investor as provided to the DP
Any change in your address should be immediately informed to DP. This enables DP to make necessary changes in the records and informing the concerned companies about the same.
Opening multiple accounts
An investor is allowed to open more than one account with existing DP or with different DPs.
Minimum balance of securities required in demat account
There is no stipulated minimum balance of securities to be kept in a demat account.
Account opening and ownership pattern of securities
One must make sure to open a demat account in the same ownership pattern in which the physical securities are held. For example: If you have two share certificates, one in your individual name (say 'X') and the other held jointly with some other individual (say 'XY'), then in such a case you will have to open two different accounts in respective ownership patterns (one in your name i.e. 'X' and the other account in the name of 'XY').
Same combination of names on certificates but different sequence of names on the certificates or demat account
Regulations provide that the client receives a contract note indicating details like order number, trade number, time, price, brokerge, etc. within 24 hours.of the trade. In case of any doubts about the details of the contract note, you (investor) can avail the facility provided by NSE, wherein you can verify the trades on NSE's website. The Exchange generates and maintains an audit trail of orders/trades for a number of years.and you can counter check detais of order/trade with the Exchange.
Holding a joint account on "Either or Survivor" basis like a bank account
No investor can open a demat account on "E or S" basis like a bank account.
Allowing somebody else to operate your Demat account
It is possible for an account holder (Beneficiary Owner) to authorize some other person to operate the demat account on his behalf by executing a power of attorney. After submitting the power of attorney to the DP, that person can operate the account on behalf of the beneficiary owner (BO)..
Addition/deletion of the names of the account holders after opening the account
It is not possible to make changes in the names of the account holders of a BO account. A new account has to be opened in a desired holding/ownership pattern.
Closing a demat account and transfer of securities to another account with same or different DP
An investor, if he wants, can also close his demat account with one DP and transfer all the securities to another account with existing or a different DP. As per a SEBI circular issued on November 09, 2005, there are no charges for account closure or transfer of securities by an investor from one DP to another
Freezing/Locking a demat account
The account holder can freeze his demat account for a desired time period. A frozen account prevents securities to be transferred out of (Debit) and transferred into (Credit) the account.
Dematerialised shares do not have any distinctive number
Dematerialised securities are fungible assets. Therefore they are interchangeable and identical.
Rematerialisation
The process of getting the securities in an electronic form, converted back into the physical form is known as Rematerialisation. An investor can rematerialise his shares by filling in a Remat Request Form (RRF). The whole process goes on as follows: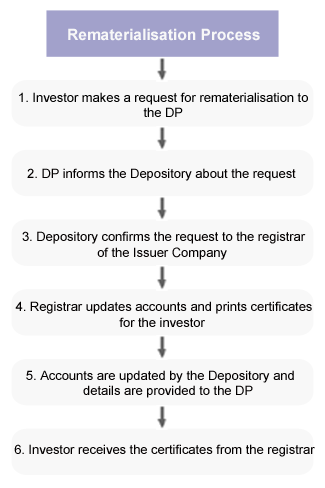 Note:
Depository - An organization that facilitates holding of securities in the electronic form and enables DPs to provide services to investors relating to transaction in securities. There are two depositories in India, namely NSDL and CDSL. As per a SEBI guideline, the minimum net worth stipulated for a depository is Rs.100 crore.
NSDL/CDSL - The securities are held in depository accounts, like the funds are held in bank accounts. There are two depositories in India namely NSDL and CDSL. NSDL (National Securities Depository limited) was established in August 1996 and is the first depository in India. CDSL (Central Depository Securities Limited) is the other depository and was established in 1999.
DP (Depository Participant) - A Depository Participant can be a financial organization like banks, brokers, financial institutions, custodians, etc., acting as an agent of the Depository to make its services available to the investors. There are a total of 538 DPs registered with SEBI, as on March 31, 2006 and each DP is assigned a unique identification number known as DP-ID.